10+ Most Innovation Best Quotes From Paripi Koumei
Overview of Ya Boy Kongming's plot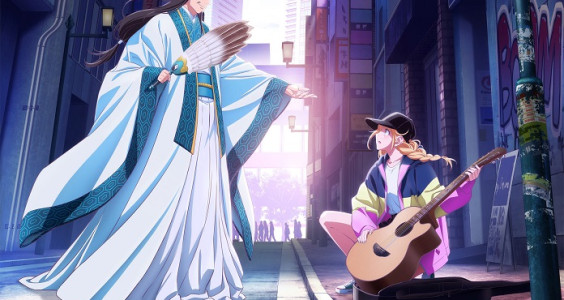 Paripi Koumei, or Ya Boy Kongming, is an anime in which the Chinese historical legend mysteriously appears in modern Japan.
During the Three Kingdoms period, Kongming played an important role as a tactician and strategist.
His first thought is that he has been sent to hell after dying in his timeline, but then he realizes he is in the future.
He comes across a young singer in a bar who has a heavenly voice. He was so moved by her voice that he cried. He realized right away that her voice would save people going through bad times and heal them.
It was then that he decided he would spend his time serving her and spreading her beautiful songs.
Throughout the show, the master tactician cooks up insane plans to make the young singer famous.
What's the point of watching it?
The very fact that a historical figure is summoned into the modern world is pretty interesting. After all, the reverse isekai concept is very much underexplored in anime.
I also enjoy watching how others react to his actions and thoughts. Paripi Koumei also has a number of interesting characters, each with their own unique personality. The interaction between the main female lead and Kongming is too hilarious for this anime to not be good.
Here are some of the best quotes from Paripi Koumei, aka Ya Boy Kongming!
10+ Most Innovation Best Quotes From Paripi Koumei
Here are some of the most meaningful Paripi Koumei quotes from Kongming, since he was a respectable wise man in his time.
Kongming Best Quotes From Paripi Koumei
Frank advice and honest opinions should be shared while we have the chance. That is my stance.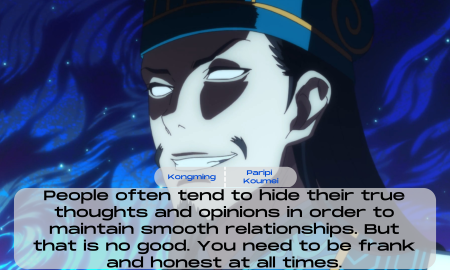 People often tend to hide their true thoughts and opinions in order to maintain smooth relationships. But that is no good. You need to be frank and honest at all times.
Life is but a flash. Let us hasten to the party.
In his past, Kongming was too busy with his duties as a strategist and skipped a party that his kingdom's soldiers were throwing. However, when the war was over, all of those soldiers were dead.
He thought he could party with them later, but the time would never come. Thus, he realized the value of celebrating time with other people.
All arises from something, something arises from nothing.
This is one of the hardest quotes to understand. Even science has yet to understand "nothing" completely, as we know that it is the origin of everything.
The wise man learns from the past, that is what divides success from failure.
If you bow to emotion, you invite disaster.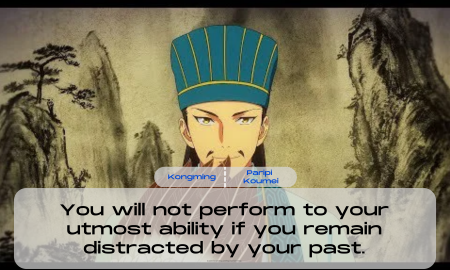 You will not perform to your utmost ability if you remain distracted by your past.
Every success requires evolution. We are no exception.
 "Ask not the sparrow how the eagle soars." In other words, small men cannot fathom the action of their betters.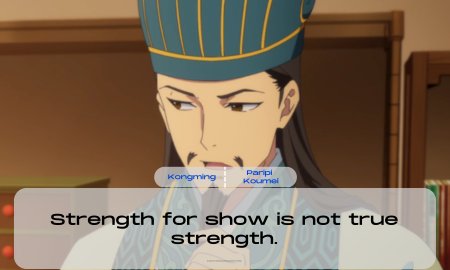 Strength for show is not true strength.
Friction… turns stones into jewels.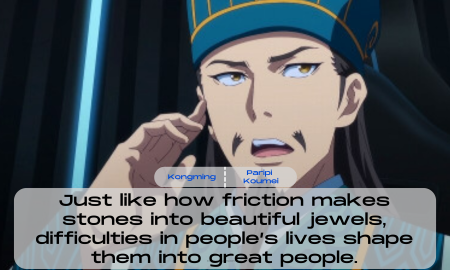 Just like how friction makes stones into beautiful jewels, difficulties in people's lives shape them into great people.
I can only say that life is a turning coin.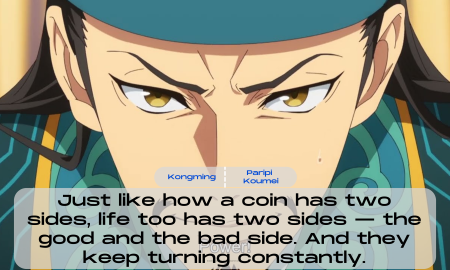 Just like how a coin has two sides, life too has two sides — the good and the bad side. And they keep turning constantly.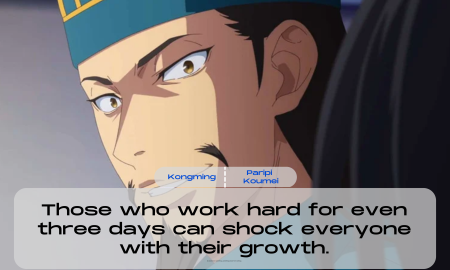 Those who work hard for even three days can shock everyone with their growth.
Owner Kobayashi Best Quotes From Paripi Koumei
Kobayashi is the owner of the B.B bar where the main male protagonist and the main female lead work. This is also where this great story begins.
Even though Kobayashi is the owner, he does not act all self important. Rather, he supports his employees as much as he can.
Although he looks like a rough guy, he is actually a super kind man who is also obsessed with the three kingdoms.
Here's Kobayashi's quote from Ya Boy Kongming Anime.
We've got time. Blowing off steam is important too.
Karasawa Best Quotes From Paripi Koumei
Karisawa is kind of the antagonist of the series. He does not believe that life can be whatever you want. Life is not that easy. It is not necessarily a story with a happy ending.
Although he is the antagonist of the series, we can understand what he means and why he does things the way he does. In someways, he is more realistic than others. Here is Karasawa's best quote from Paripi Koumei:
I thought I could make a living doing what I liked. But you only ever get paid for doing what other people like.
Sasaki Best Quotes From Paripi Koumei
Sasaki is a minor character who is into freestyle rap battles. He emotionally supports one of the main characters in this show. Sasaki is the ultimate friend that everyone deserves.
Even lookin' the fool, no need to act cool, you are you. That's the guy who's a voice for the people.
That is the end of our 10+ Most Innovation Best Quotes From Paripi Koumei
If you liked this post, sign up with your e-mail to the right to stay updated on more anime content. And don't hesitate to comment for us about 10+ Most Innovation Best Quotes From Paripi Koumei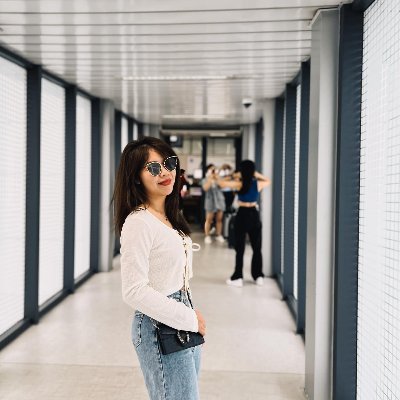 That's me, Andreea Blaga, author of the blog https://anime-everything.com. I work as a content creator in the US. I am also passionate about Japanese Anime.