Welcome to the blood-soaked and demon-infested world of "Chainsaw Man," where the artistry of the anime series is as mesmerizing as it is gruesome. In this deep dive, we'll explore the captivating artistic direction of "Chainsaw Man," a series that has taken the anime world by storm, thrilling fans with its unique visual style and unapologetic brutality.
1. A Dark Palette of Horror and Gore
"Chainsaw Man" embraces a dark and visceral aesthetic that's impossible to ignore. The series' color palette is dominated by shades of red, black, and gray, creating an atmosphere of impending dread. The graphic and often gruesome depictions of demon battles are unflinching, immersing viewers in a world where death and dismemberment are constant threats.
2. Dynamic Action Sequences
One of the standout features of "Chainsaw Man" is its dynamic and pulse-pounding action sequences. The fluid animation and choreography bring Denji's chainsaw-wielding battles to life with incredible intensity. Each fight is a visual spectacle, with chainsaws slicing through demons and explosive displays of power that leave viewers on the edge of their seats.
3. The Expressive Character Designs
The character designs in "Chainsaw Man" are both distinctive and expressive. Denji's iconic appearance, with chainsaws sprouting from his head and arms, is a visual representation of his dual nature as a devil-human hybrid. The demons themselves are a parade of grotesque and imaginative designs, each more terrifying than the last. These designs contribute to the series' unique visual identity.
4. Surreal and Dreamlike Sequences
"Chainsaw Man" doesn't shy away from surreal and dreamlike sequences that blur the line between reality and fantasy. These moments often occur during Denji's encounters with devils and are characterized by abstract imagery and symbolism. These sequences add depth to the narrative and create a sense of unease and wonder.
5. Minimalist and Symbolic Storytelling
The series employs minimalist and symbolic storytelling techniques to convey emotion and meaning. Moments of silence and stillness are juxtaposed with chaotic action, creating a sense of contrast that enhances the impact of key scenes. Symbolism, such as the recurring image of a door, adds layers of interpretation to the narrative.
6. The Influence of Horror Tropes
"Chainsaw Man" draws inspiration from classic horror tropes and imagery. The use of darkness, shadows, and body horror elements evokes the atmosphere of a horror film. The series subverts these tropes by combining them with elements of action and dark comedy, creating a unique and unpredictable narrative.
7. The Role of Visual Metaphors
Visual metaphors play a significant role in "Chainsaw Man." The chainsaw, beyond being a weapon, serves as a metaphor for Denji's struggle for survival and his desire for a "normal" life. The use of visual metaphors adds depth to the characters and themes of the series.
8. The Impact on Anime Fans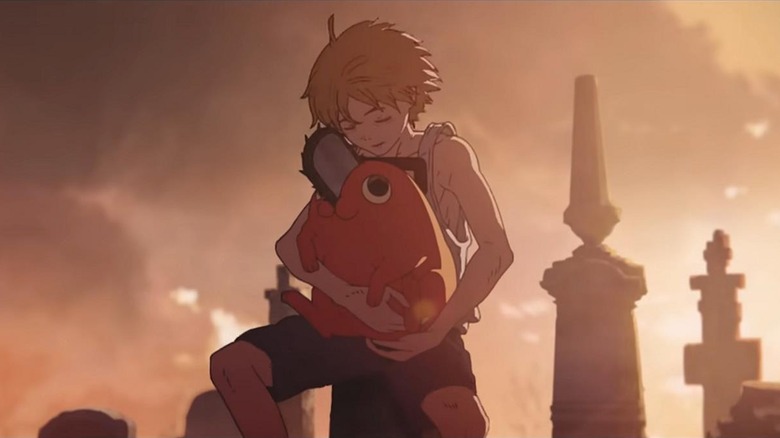 "Chainsaw Man" has resonated with anime fans not only for its gripping story but also for its bold and daring artistic direction. It pushes the boundaries of what can be achieved in the medium, challenging conventions and expectations. The series has sparked discussions, fan theories, and a growing appreciation for the artistic side of anime.
9. Conclusion: A Visual Feast and a Dark Delight
"Chainsaw Man" is a testament to the power of artistic direction in anime. Its unique visual style, characterized by its dark palette, dynamic action, and expressive character designs, sets it apart as a visual feast for fans of the medium. As we eagerly anticipate the next episode, we're reminded that "Chainsaw Man" is not just a series; it's a visceral and unforgettable experience that pushes the boundaries of what anime can achieve in terms of storytelling and artistry.
That's me, Andreea Blaga, author of the blog https://anime-everything.com. I work as a content creator in the US. I am also passionate about Japanese Anime.