I'm back with another quotes session! This time I hope to share with you some of the best Hunter X Hunter quotes.
Hunter x Hunter is one of the most watched shounen anime ever. In fact, it's one of the select few that has gotten a 9.00 on MAL out of over 10,000 anime surveyed.
Hunter X Hunter is about Gon's awe-inspiring journey to become a pro hunter as he strives to find his father.
This post will only be focusing on the anime's quotes and valuable life lessons during the entire episode.
Prepare to be amazed with some of the best Hunter X Hunter quotes!
Chairman Netero Hunter X Hunter Quotes
You believe I cannot pray with a single arm? A prayer comes from the heart. If the heart achieves the correct form, it becomes emotions and can be manifested.
~ Netero
Human potential for evolution is limitless.
~ Netero
We are not desperate for help, we only seek the strong.
~ Netero
Hisoka Hunter X Hunter Quotes
It takes a mere second for treasure to turn to trash.
~ Hisoka
Love and hate are two sides of the same coin.
~ Hisoka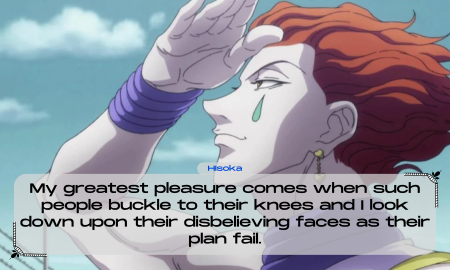 My greatest pleasure comes when such people buckle to their knees and I look down upon their disbelieving faces as their plan fail.
~ Hisoka
Right now, I'm letting you live. And I'll continue to keep you alive… Until you've grown to become worth killing.
~ Hisoka
Kurapika Hunter X Hunter Quotes
The only principle is that there is no principles.
~ Kurapika
I do not fear death. I fear only that my rage will fade over time.
~ Kurapika
A beast in human's clothing understands better than anyone how people want to be treated.
~ Kurapika
Killua Hunter X Hunter Quotes
Who wants to have their life planned out for them?
~ Killua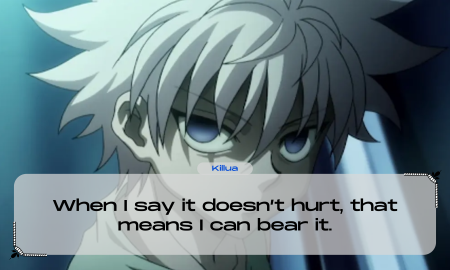 When I say it doesn't hurt, that means I can bear it.
~ Killua
Gon, you are light itself. Sometimes you're too bright and I can't look at you… But can I still stand by your side?
~ Killua
If I ignore a friend I have the ability to help, wouldn't I be betraying him?
~ Killua
Gon Hunter X Hunter Quotes
If you are lying it will be easy on my mind. I won't have to show you any mercy. I can defeat you without hesitation.
~ Gon
If you want to get to know someone, find out what makes them angry.
~ Gon
Qualification isn't something we have to talk about. The ones who are not okay with their success can go through training until they are.
~ Gon
If you're willing to do whatever it takes, I won't hold back.
~ Gon
If you liked this post, sign up with your e-mail to the right to stay updated on more anime content. And don't hesitate to comment for us about Top Emotive Hunter x Hunter Quotes
And don't forget to check more interesting blogs dedicated to Hunter x Hunter on our website!
Related Blog: Top 10+ Inspired Black Clover Quotes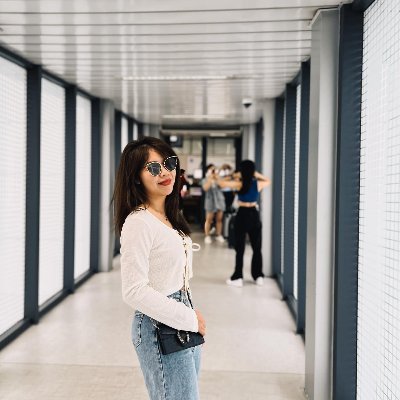 That's me, Andreea Blaga, author of the blog https://anime-everything.com. I work as a content creator in the US. I am also passionate about Japanese Anime.